Book project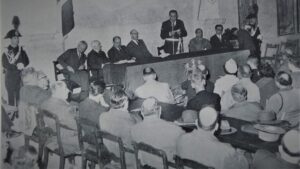 The picture above shows the conference celebrating Bartolus' 6th centenary, 'Bartolus European jurist', Todi, Italy, 1962.
The idea for this research came from presenting a paper at the subsequent Bartolian celebration held fifty years later, in 2012. In that paper — "Bartolus without Bartolism" — I wanted to answer the prolusion on "Bartolism" that the leading Italian legal historian Francesco Calasso delivered in that earlier occasion, and was meant to gauge the distance between that time and ours.
Synopsis
When we look at 20th century legal historiography we find some themes — the European ius commune, legal humanism, judicial history, the Western legal tradition and others — that had an essential function. They were interpretative keys to understand the past that channelled legal-historical scholarship into new and original paths of research. At the same time, they had their own history. They showed the hand of their own influential creators, the context of origin, and the specific questions they aimed to answer. In their own terms, they offer a compelling image of the legal past.
That image has today lost its shine. Legal historians are turning to other directions, seeking other explanations and new conceptual frameworks. It is precisely this change at the heart of the present research, as it fosters a natural question, How does legal history move in time, what determines its broad shifts in purposes, methods and objects?
To understand legal history we should look at what legal theorists have to say about "law"
Our explanation is that legal historiography cannot operate without a philosophical idea of "law" that summarises how law should be created, by whom and how. Following this premise, legal history should be better explained looking not at historians but at philosophers. In a word, to understand this field we should look at what legal theorists have to say about "law".
What this research therefore pursues is a history of legal history, focused on the influence of some broad philosophical ideas on legal history writing. We find in fact some major philosophical figures at its main turning points. The 19th century was dominated by Savigny who believed to be the Kant of the discipline. And the 20th century opened with Hermann Kantorowicz who reversed the received legacy, starting from a concern with language that was shared by Kelsen, Hart up to the Nouvelle Rhétorique and which is at the heart of contextualism, judicial and comparative legal history and other major approaches in legal history writing.
And today, the current reorientation of methods and objectives should be explained, according to this approach, by a vast reformulation of its theoretical premises and in particular by a growing concern with the informational framework whereby the law operates, which is silently changing how legal historians think and operate.
The research is divided in three parts. Part I begins from the age of Savigny, namely, the legacy that the early-20th century (free law, legal sociology, jurisprudence of interests, logical empiricism, Nordic realism) wanted to overturn. Part 2 focuses on the main categories produced during the 20th century: European ius commune, legal humanism, judicial history, and the Western legal tradition. Part 3 ends with the present time, whose distance from the 20th c. is apparent from the fading grip of those conceptions.
Purposes
In this book I have three purposes:
First, to address the question of the historical consciousness of legal history. One of the features of this discipline is that of having forgotten how deeply the language with which legal historians think and write about the legal past is embedded in ideas rooted in the 20th century. This research attempts to look back and bring to light the ideals and sometimes hopes that legal scholars invested in their legal-historical projects (e.g. the European ius commune, legal humanism or the Western legal tradition). My purpose is not to offer an argument about the historical relativism of those narratives, but I believe that making explicit their formation and attempting to understand the role they served then is a necessary step to figuring out how they can be transcended.
Second, to contribute to the methodology of today's legal history. Current legal-historical research is embedded in philosophical overtones. Legal historians' conceptual daily arsenal is made of notions such as normativity, plurinormativity, legality, hybridity, legal traditions, normative regimes, legal information — which demand a precise understanding of their intersection between legal history and legal theory.
Third, to approach present day legal history (not from the side of a "technological revolution" but) as a further stage in a broader history of knowledge, which has been moving from epistemology (Kant and Savigny: "how do we know reality?") to language (Kantorowicz, Wittgenstein, Kelsen, Hart: "what is the appropriate language to know reality?") to information ("what is the cognitive material that connects humans in their interactions?").
The main idea is that the history of the law is a chapter in the history of knowledge.
Table of contents
Introduction: Changing images of the legal past
I. The age of Savigny
Formalism
Purity
Historicism
II. The age of language
Kantorowicz and the linguistic turn
Ius commune europaeum and the crisis of legal science, 1930-60
The rise of comparative legal history
The post-WWII defence of legal humanism
The Western Legal Tradition and Soviet Russia
III. The age of information
Law as information
What is information?
Legal history as the study of tradition, information and normativity